Since the last blog post, some things have been happening at the house, but of a non-eco variety. Most of last week the plasterers were in, and we've now got all but one of the rooms skimmed. Today, Roy the cornice man was doing some repair work to the cornices: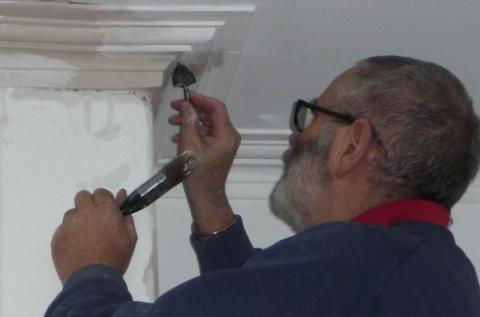 The occupants have been busy designing their kitchen, and have done an excellent job of sourcing things carefully, reusing materials where possible and using eco-friendly products elsewhere. It's been really inspiring seeing this response to the opportunity to design an eco-kitchen from scratch. In order to facilitate their chosen kitchen layout, we've had to move the fireplace into the front room (which was missing its original). The fireplace has now been carefully removed and taken off-site for cleaning - turns out that under all those layers of landlords' Dulux it's a lovely white-flecked grey marble piece.
However, in between all this the main contractors haven't made any progress. We seem to have come to an impasse with them, where they are suddenly demanding more money from us. More on this next time, when hopefully we will have ironed things out with them one way or another.