The builders have now started fitting UdiReco to the external rear wall of the house: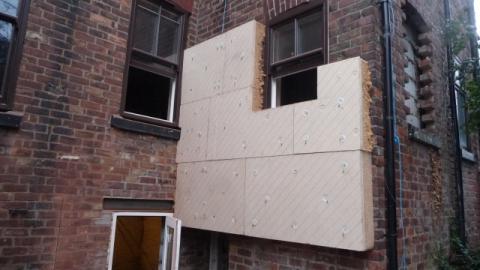 Note that the right-hand wall (with the bricked-up window) has deliberately been left, as the insulation is on the inside there. The job is waiting for scaffolding now.
The smaller basement door has been inserted, as can be seen in the photo, but the larger one (which would be off-camera to the left) is awaiting arrival of RSJs.
Meanwhile the builders have been preparing the remaining rooms inside for skimming, with plasters due on-site next week.
I have been concerned at lack of progress with the electrical installation, but a new electrician is coming in tomorrow, so we shall see.